"When I Was A Noob..."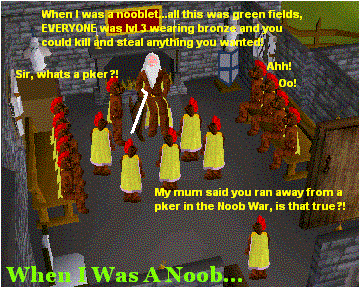 Old Retired Noobs in the Noob Retirement Home, reminisce about their days starting out as a N.I.P. (Nooblet, Innocent & Poor), while drinking Noob Tea through a straw, and praying that they will be next to be drawn in the raffle to have the operation to remove the bronze armour that has welded to their skin, by innovative tin opener surgery. Warning: may cause head slapping, and your eyes to roll into the back of your head.
"Ok, when I was a noob, the noobish things I did were: When u wanted to exit the game, I thought u had to put all the items in your inventory in the bank and close the browser window, I neva knew there was a log out button. I only ever went to Al Karid on special occasions, the fee was sooo high" By meispsycho



"Didn't know what the log out button till I was about 40 combat, lol. I thought if I shut off my computer while fighting a pker I would live.. I though p hats were burger king hats .." By coolvice



"Well 2.5 years ago... I flipped out when I bought a pair of STEEL LEGS (!) for 400gp. I was so happy, I had iron plate, helm, square shield, steel long, and steel legs. I went on a barbarian killing spree! I also thought that in order to cast wind strike spell, you had to drop the runes required and say "wind strike"" By Redblood_7



"I used to collect iron daggers and sell them... you'd be amazed how much I made I had like full steel in a week" By Bepo



"-Being killed by a cow...twice. -Envying my friend with full iron. -Finding 700gp on the ground and calling all my friends to brag. -Getting my Strength level to 25, not realizing their were Attack and Defence skills to work on -Taking three weeks to get a full set of armour -Walking through Varrock, wondering how people go so lucky as to have extra things to sell. -Seeing dark blue armour (rune) and wondering what it was." By Psymic



"When I had full bronze and died with it, I cried When I got full mith, every1 wanted it, so I took it off, and was proud! When I first died and resurrected in Lummy, I didn't know where I was I got lost on Varrock Square! I was in wild lvl 1, and didn't know what to do, I wanted to know what the cross bones were, but was attacked and killed! When I first got rune, I went to wild to pk someone, and talked so much I almost died (had 1 hp left). I thought coal was the best thing on earth. When I first became a member, I had no idea that Lummy would be so crowded and didn't know what 'duel' was" By alpr1010



"lol, the most noobiest thing I've ever done, was probably spending every last gp I had saved, for like 3 months (at lvl 15 about 14k) on a rune med not knowing what it was...and quickly realized that i couldn't wear it - then I tried to sell it away for 80k" By Genius0229



"-Trying to get through Tutorial Island, and getting lost. Oh, and my friend had to come over to help me get through it. -Getting one skill on the high scores (back when it was hard to do that) and jumping with joy! -Getting a free bronze medium, and a bronze battle axe from my friend and wondering why he was being so generous. -Spending hours in the wild gathering up steel legs and selling them in Al Kharid. -Realizing that you don't have to stay on one world. -Imagining when I could finally wear adamantine. -Being afraid to do the Dragon Slayer quest until I was combat level 45. -First starting mining/smithing and making enough to buy an addy helm.(my proudest moment! ) " By Psymic



"I bragged to everyone I could meet when i got full bronze that my friend made me. I went to bank at night (where I live) and the bank doors were closed, so I waited until the next morning to go into bank." By volcom89



"First time I saw somebody standing on a fire I thought it was punishment for something and called them a "heretic". They laughed at me. I almost cried the first time I died." By hedgehog_x



"I stayed in Lumby until lvl 13 because I was afraid of the goblins with spears (they're out to get me!)" By mercenary



"I thought perhaps people were going to try and scam me when they offered to give me full bronze. (Or at least, complete my bronze, as I only had top and helmet at the time. Because I couldn't understand why they'd give anyone something worth so much money! (Hey, I made all my money from quests. SO I had very little. I once spent an hour picking bananas for 1k and thought it was the best thing ever and thought I was rich. ). I remember when someone gave me a mith b-axe and I just was soooo proud of it. I used it until I could wield rune, good times, good times" By Novium



"When I was a Noob, (erm, aren't I still one?!) I spent 3 months of my precious youth collecting virtual planks, cabbages, ashes and buckets, I even high alched my rune armour so I could afford to buy 20,000 bronze bars! I still think it will be worth it if some new skill quest comes out that needs 4000 onions...1000 hammers and, erm 3568 tiles..." By Spooksprings



"A n00bie thing I did - I went and fought a scorpion when i was level 6. It had 1 hp left, so i killed it in one hit. I was soooooo proud, i bragged about it. People didn't believe it, so i went to do it again. I got pwned" By Lethal Axe



"Got full bronze and i was so proud so i went to the dwarven mines where the scorps were to show off and i died. I also thought you could cut gems with a knife" By Dimetro



"I remember my friend told me that rune armour was made from melting down magic runes. Lol. He also told me that when he got members he could get gold bars added to his armour to sell for more and that the 1st potion you could make with herblore was the potion from the Romeo quest." By Boozeman



"I thought u could fight against other players EVERYWHERE I was so scared when someone lvl 70+ came near me" By Dragon 876



"My friend told me to pull a lever and i was in a hurry and it said, "Are u brave?" I didn't read the first part, so I clicked on it it took me to lvl 54 wildy! My friend jumped me and took my rune scimmy and 80k" By Stangman106



"Yeah, i do miss the noob times in RS...when I was so addicted, now RS is so boring. Yeah when I was a noob, I nearly quit because I died and only kept my full iron! I nearly cried when I lost my 10 basic runes, iron dagger, (yes I though iron dagger was MUCH better than bronze long) hammer, net, brass amulet, and, yes, a bronze pick. Then I died again trying to get a hammer and bronze pick lying on ground, with just two scorpions guarding it, some guy tried to help me but I died anyways!" By XAznPrideX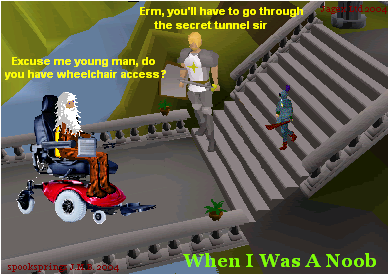 "Ah, the old days, when I got attacked buy highwaymen and thought there was only one bank Ah, the old days, when I never left my training spot for fear of forgetting were it was and never finding it again. Ah, the good old days, when I would flood trade people, who would run into the mining guild, and i would go, "Wow, 60 mining!" Ah, the good old days, nottin' like noobiness" By icefoot



"I remember pking, my adrenaline raising, because I had a skull glowing like a star above my head....and Bubba Camp's Shrimp industry...erm...yeah, well I'm still a noob. Kind of makes you think about how childhood is for spoiling adulthood. Works the same in Runescape huh?" By malavonz



"I remember when I was just starting RS, my friend had started a while before, and he was around level 10-15, so he was showing me around the place. Eventually we got to Barbarian village, and I had no idea what he was talking about when he told me that he had just reached 15 mining. We were about to move on to Fally I think, (not quite sure, it was a long time ago) when suddenly this guy loses to a barbarian right next to us, and drops a bunch of stuff including meat, bronze helm and stuff. But the thing that caught my friends and my attention the most was the iron kite shield sitting on the ground right in front of us. I raced over and grabbed it, and was like, "Is this good or something?" and I remember my friend telling me, "Sweet!! You got an iron kite?! That's like the best! I've been trying to get one for forever!!!" By froogain



"I liked being a n00b when you met your 1st good friend, and when he gave you a full set of iron you were almost screaming in delight! Then you would go into the wilderness with your new armour because you thought you were 1337, and then broke into a cold sweat when someone attacked you and you lost, and that night when you went to bed you couldn't get to sleep because you were so sad about losing your set of iron." By chumbucket03



"When I was a n00b, me and my m8 went explorin' Karamanja. His m8 tried to cook bananas (lol) and me and my m8 found a dungeon. Believing it had wealth and gems down there, we set off in exploration. I had my first set of steel on, I saw a saph on the ground (lesser drop?). I ran to grab it and a big demon came and 3 hit me :( . My m8 ran scared and got killed by a scorpion. I was lvl 25 and he was 12." By 123sam456



"I remember that I wandered around a few days, clueless as to where I was and how to do anything (before tutorial island). I came across a cabbage field and I thought - what a loser game, if food is this easy to get the game must be pretty poor. I picked all I could carry, but couldn't run and eat at the same time and was killed by a highwayman. A very nice girl took me to a smith and made me full bronze - I thought she was a goddess. I wish I could remember her name - I could pay her back nicely nowadays. I started the game because my son wanted me to be a miner and provide him and his friends with armour and weps. Although I wondered around lost for a few days, I finally found my way to the mine south of Fally and was soon ready to mine coal and moved off to Barbarian village. I didn't have a clue what a cert was, but I bought 2 coal certs from this dude. I kept asking everybody what you do with certs (very noobish!) and people said trade them in at Draynor. I spent *over a week* looking for Draynor because I thought Draynor was Draynor Manor. I spent hours at Draynor Manor talking to everything that moved trying to push my 2 certs on them. I ended up doing the vampire quest thinking I couldn't trade my certs till I figured out everything about Draynor Manor. Imagine the embarrassment when someone said "go a bit farther south and talk to the guys on the west side of the bank" By PacoTaco.



"Aw man lol, I loved being a n00b... and still enjoy it today, even tho' some ppl wouldn't look at me as a n00b, I still love to act like one, and LOVE being called a noob... noobie... nooblet.. choob.. what ever else dumb names there are. I remember the time when I thought I could kill a bear I attacked, was doing good, then he hit a 3 on me! I couldn't believe it! I ran...and died. I was then out on a search to find a tinder box, sleeping bag, a bronze axe and a weapon, then all of a sudden, a pile of glistening marvel caught my eye! It was a pile of things just laying on the ground !!! I didn't know for what reason, but i got my tinder box, sleeping bag, and axe back !! I was so happy. Come to found out l8er in the game, that it was MY stuff from when I died! I also loved to ask ppl, " U know where the bank is?" and they would kin'ly say, "Follow!" Then the day came when I came upon what seemed to be ancient Roman rubble, with wizards, and a BIG demon, that was lvl 79! I couldn't believe me eyes! I fled with fear, that the demon was going to chase me! Come to find out, it was part of a quest. I also remember when I thought I was big stuff, when i bought a bronze large for 100 coins! I was so happy, because then i looked like the other ppl. Man, I miss being a n00b. I can't wait, (prolly won't happen) but can't wait till my main guy now, is all 99... and then start over again, once again as a n00b. Excellent.. topic * tears * " By Palm Tree



"Ages ago, I played RS but I left it 4 a while, and in those good old days password questions were nvr needed so I just hit any keys, but I came back and I was shocked! The rocks ran out of ore! There was a tutorial you CAN'T skip! You can't do things if you get too tired! There was all these signs like ":p" and what the hell were drop parties?! Now I like priest robes and a rune sword, it look sooooooo kool, but as a noob what looked cool was monk robes and an addy helmet, and to think I used to think 100gp was a fortune! Then some guy gave me a free mith pick, which I kept for a year! And when i went to the store I was like, "How much would this sell?", and it came up 550 gp, and I was like, wow! Another friend gave me hints at a drop party and I got 7mith hatchets. Some ppl are kind and some are definitely not!" By ereinion gg



"All I knew was Lumbridge and I liked it there, because I could chop trees and sell the logs for money at the general store. Then I wandered off and got lost in Draynor. I yelled for about 10 mins saying, "HELP!!! I'M LOST!!! SOMEONE PLEASE TELL ME WHERE THE STARTING TOWN IS!" lol, and I met my first friend, who is still my friend, he guided me to Lumby." By Munkey04 Jr



"I started by striking up a conversation with a farmer, thinking that he was a player. He was level 15 and I was level four, and I looked up to him so much, even though he was the strong silent type. After rambling about my problems and how unused to this game I was, a level 70 saw what I was doing, and killed the farmer! I was furious that I had lost this new found and very polite friend. I never recovered from the Trauma *Huddles into a ball and starts weeping*. Feel free to laugh at my stupidity." By Justin



"Back when I started playing (when there were only 2 servers) I talked to a man npc, and my character asked if he wanted to trade, but the man said no. I then started collecting everything I saw and started on my quest to find a man to trade with. I must have talked to thousands of men (npcs) but to no avail, for I could not find one to trade with me :(" By Chester



"I was trying to use the general store and kept typing yes to questions, and it never worked, 1 hour later I found out you had to click... I also asked who lag was, 'cuz everyone keept saying lag!!!!!!" By WarGoD



"when i first started RS, i had just finished playing d2 (online game) so I created an acct. my friend said my acct. was messed up so I made a new acct. Then I tried drop trading like in d2 'cause I didn't know it was against the rules. I quickly logged off, and logged on to the new acct., but i didnt see the items! i was like OMG I LOST MY BRONZE SHIELD AND SHORT SWORD!! Lol, I never knew I had to wait 30 sec for it to show. Now i just keep to one acct. :p" By Ice Demon612



"Hmm...adding npc's in my friendlist! A friend of mine was training in the wizard tower, so a my friend and I went there, got upstairs and we got killed by a dark wizard, my friend was furious because he had lost his iron helmet! Also that friend found a yellow partyhat on the ground, found no use of it, and sold it in the general shop. Whaha beat that!" By Superthom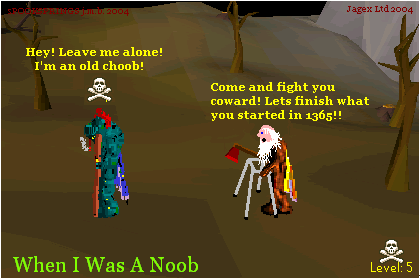 "Haha! When I was still a noob, I saw many people wearing the red dragon masks. One fine day when I went to Karamja Island, I went into the volcano and then into the lesser demons area. I saw all the Lesser demons, and I thought they were players with ultra big dragon masks and suits, so I went in and kept saying "Hi, nice suits!" then finally a lesser got me killed..." By acidalliance



"I killed many men in Al-Kharid, and laughed at them and called them noobs 'cos I thought they were other players. Yeah lol, I came accross the Melzar's Maze and I asked the people inside how to get in, and this guy lent me one of his keys. I got in, and the guy was like, "Gimme the key, now!" I was like, "Not yet, I need it to get out." And he was like, "I'm going to report you!" So I gave him the key and got killed by the giant rats.By Da SK8MaSTeR



"Asking how to drop logs! I got so mad when ppl didn't tell !" By meroyc8



"I did one stupid thing. When i started play, I got some magic runes from the wizard guy, and I figured out a smart way is keep talking to him, like that he'll give u more runes to try on a chicken. So I continue to do that for like, 2 days, and got like, thousands of runes! I was so happy and thought, that's enough for now, so I continue to the next part, and when I arrived at Lumby, I was so shocked that all my runes were gone, apart from 15 of each!" By leftaznlboiz



"I thought fire making was the best skill in rs because u could kill people by setting them on fire! But the noobiest thing I did was either when I took all my stuff in to the wild, then got people to chase me, trying to get it off me, saying I had rune. Well I died, lost 1k, and thought I would never earn that much again! Also I though I could own a lvl 120 in duel arena when I was lvl 10, with my new ability, fire strike! Well guess who won the fight, me, Lol! No, I lost, but I took half his health off, running around, hiding behind people he couldn't see!" By meheavenblast



"I sold all my n00by armour and junk, made around 3k. Then I heard about rune, some guy told me that he would make me 'special' rune if I gave him my 3k. So, he went and got goblin armour and sold it to me for 3k. To my surprise, I couldn't even wear it. Another stupid thing I did was, going into wildy and asking people to teleport me to Lumbridge, because a guy told me the only way to get to Lumbridge was to have people in the wildy teleport you there. So everytime I wanted to go to Lumbridge, I would go to the Wildy and beg people to 'teleport' me there. By Sunshine



"I found a piece of a cannon on the ground right after some dude used it, he asked for it back because it "fell off". And I gave it back. I donno if he was telling the truth yet." By jasonresnoM



"Umm, back when I was a noob, I thought a highway man was a real player, so when it attacked me, and this guy next to me, I was shouting out (it was higher lvl than me at the time), "Ahh please don't kill me! I have nothing!", but then I was owning his npc butt, and he ran, so I chanced it, and killed him. Got me a black cape, and the other guy who was watching said, "nice job!"" By trekkie



"When I was a Noob, my n00b mate asked me how much a rune med healed!" By St Anger 42



"I was selling full mith to a nub, and when I show him the goods in notes, he close window and shouts, "Look out, look out... Fre4ky Mage tried to scam me with paper stuff!" By Fre4ky Mage



"Lol! When I was like, a lvl 3-7, I thought "man" and "woman" where players. I kept fighting them, and say, "Who's your daddy?!" Lol, but when I became lvl 10 or soemthing, I finally figured out they were a npc's Lol!" By weebs2244



"When I first started I went around exploring every single inch (like I do in every rpg), and I accidentally clicked on a man, since I didn't know the difference back then, I kept begging for my life, cuz it was killing me! Then I came back to apologize and it attacked me again! Finally cursed a bit and ran like hell. Then I stood a while outside, and this lvl 20 comes and gives me full bronze, and I was like, "ok", cuz I thought it was an NPC who gave every new person armor and a better weapon, like the tutorial island. Then i learnt.. i was soo wrong!" By Navojoa



The noobest thing ever, is something that I did the first day I started, and I still remember it. I was fighting goblins in Lumbridge, and I wanted to go into Al Kharid. I went up to the gate and tried to get through. I noticed that it cost 10 coins. I didn't have 10 coins at the time. Then I saw a person go through and it said, "You may pass, you are a friend of Al Kharid." I had no idea what level he was because that update hadn't come out yet. So i figured he was just a normal person like me who hadn't been playing long and was friends, with this "Al Kharid," person. So I said to myself, I wanna meet this "Al Kharid" person, it will save me a lot of money throughout the game. I added him to my list and noticed...he wasn't on. I thought maybe it would fool the computers to thinking that I was his friend because he was on my buddy list. They still didn't let me through.... Today that is probobly my funniest and noobiest moment in runescape. By Silverarrow



Probably, "Selling ultra rare painted blue dragonstone." It was a sapphire...as you might have guess.... By Waddup



"I seem befuddled at my past occupation of spending hours closing all the farm gates in Draynor so the animals couldn't get out. I thought I was doing Jagex a favour, I thought the sheep might all get out and nobody could find them, doh! I actually thought I could drive the sheep back in by blocking their paths." By Spooksprings



"I saw some noob standing next to rune shop in varrock and talking with himself "I killed a goblin and I killed a cow I am the best" By Kombinator



"Some noob who probably thought a black knight was actually a character, kept following it asking for fre st0f for hours, then he left and reported the black knight LOL!" By Zeus The God



"Hmmmmm, probably when I was at bank browsing through the bank vault looking for rare items when someone came up to me and said, 'You think your tough wearing bronze and dancing" By Tooooon



Back when rs2 wasn't around I was getting feathers from chickens in Lumbridge, and a noob goes into the little building with the farmer in it and says to me, "Dont kill this chicken i want it to lay and egg". I reply "ok..." So he sits in the building for about 45 minutes and comes out and says to me, "I think there is a glitch because the chicken wont lay an egg" By Rblacrosse4life


Teen Dictionary for Old People: Al Karid, Fally, Karamaja, Lummy, Lumby, Wildy: fictional real towns in Runescape. Kool: really good, excellent. Lol: laughing out loud / Lolita. Lvl: level. Neva / nvr: never. Noob, noobie, nooblet, noobiness, noobiest: someone who is a bit thick / innocent / new, knows jack shoot / friendly, kind, fun child / brave bronze armour wearing maniac / or a combination of these things. Pker: a player killer, a virtual vampire / a sniper who stalks you in real life. Ppl: people. Prolly: probably. Pwned / owned: similar to boarding school burgalry. Runescape: multiplayer mediaeval slave maker online game engine.