Lag At Its Worst Since 1350!
~ Sloths Become New PK Champions! ~
The "lag" experienced by citizens of Noobscape this month, have almost brought them to a full stop. Not content at being overtaken by sloths snails and slugs, Noobscapes' adventurers intend to do something speedy to counter it!

"It makes my blood boil!", says a pker, running in a bizarre zig zag between level 10 and 12 wildy, "I cant even attack a rat with my cat, let alone flee from a level 100!"


Some Noobs experiencing what they believe was lag, last Thorsdag.
Lag by definition is the stalling of the way men walk by time disruption in the atmosphere, believed by seer scientists to be caused by a breech in the quantitative time constant, resulting from an accumulation of dragon's farts in the air. This causes adventurers to act, in others eyes, as insanely as a KBD in his death throws. Mages in Noobscape intend to combat this problem by attaching roller-skates to the feet of knights, so that they may still roll as the lag in the sky comes about them. This new invention, the roller skate, is a combination of ranger boots and 300 crystallized eyes of newt attached to axles.

Pkers seem happy with the test results, "I can grab the tail gate of a passing bear and get a free ride North!"

Jaggedex officials state that plans exist to curtail the farting of dragons by some ancient Elvin method of containment, utilizing a cork on a long skewer. Well keep you posted, if we don't lag.

By Spooksprings (J.M.B. 2004) Lagger on assignment.
Noobs On Ice!
~ A Mammoth Find For Noobologists! ~
Clad in his new grey wolf fur armor and boots, Noob 239 clambers up a steep ice glacier precipice in level 69 wildy, a vast expanse of frozen wasteland, recently discovered by intrepid, but lost gnomes. His lungs are bleeding from the rare and sub zero temperatures, his shivering body unprepared for what greets his squinting eyes before him. For there, locked in a giant obelisk of crystal clear ice is a bronze clad Noob...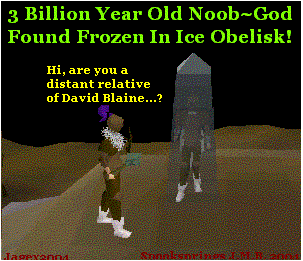 Noob 239 N.O.D. about to lick a giant lolly in sub zero temperatures.
Confused, and near exhaustion, Noob 239's brain scrambles with mixed messages....a new pker ice freezor spell? Giant ice dragons and demons curses?! A new Noob Lolly factory relocation?!! Unable to focus, he steps closer, and peers at the frozen spectacle, and there, sitting in all it's splendour, a Noob King, bedecked in all the finest bronze and brass ornamentation that shrimps can buy. His eyes wander down, and there, on it's chest, a plaque, in an ancient dialect of Nooblish, sitting, waiting, to be transcribed by such a curious Noob.

He reads "I, The Grand and SplendaNoobious Noob God King, Noob Thormium the III, from the Version 0.24 Age of Noobscape, have been frozen in Noob time until that age whence Noobs will seek my power, wisdom, authority and Noobknockamockery, if 'ere they feel threatened by the Choobinators, Pkers and small rabbits! Press HERE to thaw me out."

Noob 239...presses the button, glowing steam starts to warm his frozen toes...

These were the last actions of brave Noob Squaddie Noob 239, as transcribed through the headset of Bombardiers at the Noob transmitter station. We know not of his whereabouts, or what happened after the thaw begun...but he is awarded the N.O.D. (Noob Order of Discovery) for his find.

By Spooksprings (J.M.B.) 2004. Roving Reporter On Ice, on assignment.
"From Noob To Noob"
~ Letters Page ~

~ Free Party Hats NOW! ~
Dear Sir Noob,
why, oh why, oh why, oh why, can't I ever afford rare items, like party hats, ranger boots and spinach rolls?!! The prices seem to sky rocket out of my pockets every time I am slithering about Varrock World 1 Market! And why do these people always seem to have 100 pairs of them?!! Do they stockpile them in the Bank Vaults?! Isn't it time Jaggedex gave us players a decent wage, so that we may afford these hedonistic and useless pixelated items, so we can all feel good about ourselves instead of coveting and being envious of strangers?! I mean come on, we did pay for Jaggedex's millionaire mansion by making 600 billion mouse clicks in their game!!

Yours, jealous, Fairy~Tips69, Zanaris.

(Editor: unfortunately, I, like all others in Noobscape, am on a Lythas banana picker wage. But I have heard rumours that slaughtering passing men and women in Noobscape is seen to be profitable).
~ Potatoes Voted Best Looking Men! ~
Dear Noobs,
Having being played by Noobscape for 5 years, without moving from my plush, reclining, sleep over, self feeding commode-combine chair, I wish to make it clear to all those health freaks out there, that playing and working in the Noobscape for 18 hours a day does NOT detrimentally affect your health in ANY shape or form. In fact, my body has become moulded to the form of the chair! I get free herbs from the witchdoctor for cardiovascular disease, and my mother brings me food on a plate! The fact that I don't have to get up and do a mundane work task in the community is beneficial to those who would not want my company. I am also saving the environment, by not polluting it with the waving of my arms up and down when I walk, which might cause turmoil in the atmosphere, and cause storms in Port Sarim! All the most famous people in history have made their livings by not doing much, and as a direct descendant of the Pope, I fail to see why I should be any different. Work from your chairs, physical labour is for squares!

Tim Trotsky, Society for Armchair Industries
~ Seen My Wood Chopper? ~
Dear Sirs,
Can any one tell me what has happened to the handsome and muscular wood chopper, that used to frequent the wood hut at the North Edge of Ardougne? Since wood certificates were phased out during transition to the 2nd Age of Noobdar, he seems to have vanished, but all his belongings remain, can anyone help? I do miss our fireside chats, his Ent stories and games of Kerplunk.

Lady Chatterley, Ardougne Castle.

(Editor: Can you help Lady Chatterley find her lost wood chopper? Have you been watching bears crap in the woods recently and spotted a mysterious man madly chopping magic trees to make ends meet? Log in and let us know!).
~ Seagull Souffle?! ~
Dear Noob Editor,
As a fan of seafood platters, I demand to know WHEN seabirds, namely albatross, gulls and penguins will be available of the sea food menu of Brimhaven pirate theme restaurant?! I don't even care if they have the feathers on them, I demand penguin pie! Chompie Chops are DISGUSTING Ogre food!

Redrum Franky, SS Lady Lumbridge.

(Editor: As a fan of shrimp surprise and trout tarte, I can appreciate your taste for the briny delights of the deep. However, Albatross A la Carte might seem a leap to deep for the ancient mystics. However there is a delicious dish you may wish to fish, which is called the Guano Gastronome, and is described as 100% seabird, 100% true grit, which might tickle your feathers).

By Spooksprings (J.M.B. 2004) Editor~filling~in~space~and~fullfilling~ press~public~relations~act~requirements 1325, on assignment.